Is it March yet?!
The cry can be heard on a thousand twitter feeds by now, and as February begins to make its speedy flight by us, Miami begins to buzz with conference anticipation. Soon, northerners, Europeans, South Americans and Canadians will flock to our city, seeking an escape from their wintery slumber on Miami's beauteous beaches.
For locals residing on South Beach, in Downtown and its surrounding areas, March is a time of much activity. Immediately after the hustle and bustle of insanity driven Calle Ocho (which we highly recommend for out-of-townees who want a real taste of Miami culture and happen to get in earlier in the month), the city begins to gear itself for its time in the limelight of the electronic music festival circuit.
Getting Around The Insanity
WMC/MMW always brings with it tons of tourist traffic to congest and clog our already cluttered streets. This year, with ultra's two weekend run, it promises to bring even more insanity to the Downtown area than ever. Here are some tips to make getting a little more manageable:
Get There Early – The good thing about conference is that many events are clustered around one area. So plan ahead. If all your events are on the beach, get there early and park in a garage. They fill up quickly, so early arrival is highly recommended, but paying a single rate of $25-35 dollars vs refilling your meter, getting a ticket or getting towed is worth the forward thinking.
Go Public – If your parties are in downtown, drive to your nearest metro station and take the rail to Downtown. With a free trolley running along Biscayne and free people mover access, the only thing you have to be worried about is when the last train leaves. MDT has offered extended rail service for the last two years and will likely offer it again this year, so check their website for updates.
Carpools, Shuttles, Vans – Lastly, locals should opt to carpool if possible and for out of towners, check with your hotel to see if they provide free shuttle service. Many of the Miami's hotels are prepared to provide such accommodations to visitors.
Ah-Ah-Ah-Staying Alive (and out of prison)
We all know you're here for the party, heck, we're here for it too. Taking special precautions to keep yourself healthy (and alive and out of jail) is an important part to the party. Avoid missing out on events you've been waiting all year for by taking care of yourself before, during and after events.
Stay Hydrated – It's easy to forget how important water is when you're sipping free Bacardi all day. Keeping yourself hydrated is the key to keeping yourself ready to go for the next event. Dehydration can lead to illness, lethargy and even coma, so look for these signs and drinks lots of water.
Don't forget to eat – Miami has as many amazing one of a kind restaurants as we do cocaine dealers, so while the drugs you take may keep you from getting an appetite, its important to eat so you can keep your energy up during your all night dance fests. Some places we reccomend you try while here include La Sandwicherie , Latin Cafe 2000 and Lost and Found Saloon. Places such as Will Call, Bar Louie, and Wood Tavern are also suggested, for those that dont want any reason to stop the party.
Don't Do Stupid Shit You've been waiting all year for this, and guess what, so has the Miami Dade Police. So play it smart, you don't want to be this year's tree hugger or gain your fame by seeing yourself on the New Time's Ultra Mug shot round up.
Special Early Events to Take Note for those already in town:
– Saturday, March 9, 2013 – United D&B and Noxiuz.com Presents: Pre WMC RUCKUZ w/ Impulse and Friends
– Sunday, March 10th Calle Ocho : We promise that if you make it to Calle Ocho, next year, you'll be booking tickets for early march instead.
Last Update to List: 03.15.13
Please don't copy and paste this list without crediting.
Things like this don't just make themselves.
[tabs]
[tab title="Friday, March 15″]
[one_fourth]

[/one_fourth]
[three_fourth_last]
Made In Miami
Artist: Oscar G And Friends
Special Features: The annual event hosted by Oscar G
Venue: Shelborne South Beach| 1801 Collins Ave; Miami Beach, FL 33139
Time: 4pm-11pm
Admission: $30 Tickets
Event Web Page
[/three_fourth_last]


[one_fourth]

[/one_fourth]
[three_fourth_last]
Datsik & Friends at Space
Artist: DATSIK, DIESELBOY + TERRAVITA, XKORE + SCHOOLBOY, TWINZ BEATZ + ROOKS
Special Features: 18+, A chace to catch big names DJ's without having to pay hundreds for Ultra
Venue: Club Space | 34 NE 11th Street, Miami, Florida 33132
Time: 10:00pm until 5:00am
Admission: $25-$35 Tickets Promotional Code: "Committee" for $5.00 discount.
Event Web Page
[/three_fourth_last]


[one_fourth]

[/one_fourth]
[three_fourth_last]
Massive Ideas and Will Call present
Artist: Earphunk/EONS/Brass Topper/Madam Asuka
Special Features: After Hours for Ultra's First Day, located right across the street
Venue: Will Call Miami | 700 NE 2nd Avenue, Miami, Florida 33132
Time: 9pm
Admission: $10
Event Web Page
[/three_fourth_last]


[one_fourth]

[/one_fourth]
[three_fourth_last]
If its on its Neon
Artist: CATO K (Y100), JOSE ESTRADA, SHALOMAR, KEVIN LOPEZ, WILL CASTILLO, JUAN BASSHEAD & JUMANJI, MIAMI BEAT WAVE, XAVI3R3, KHAOS, JACOB BURCHFIELD, MAURI & MORA, SONIC C (DIM MAK), DANIEL MENDEZ, MONSTARS ON BROADWAY, SHAVAUN GORDON, MISTER ONE, EPPS, SMILEY, DYNAMIK, DAVID SOLO, DEZZ, PHASE,and secret headliners to be announced
Special Features: WMC's biggest 18+ event, 5 rooms
Venue: Mekka Nightclub | 950 NE 2ND AVE, Miami, Florida 33132
Time: 10pm
Admission: $25 (tickets)
Event Web Page
[/three_fourth_last]


[one_fourth]

[/one_fourth]
[three_fourth_last]
TURBO HIPPIE DANCE
Artist: Tiga, Pachanga Boys – Miami Debut/WMC Exclusive, Daniel Maloso, Thomas Von Part
Special Features: WMC's biggest 18+ event, 5 rooms
Venue: The Electric Pickle Co. |2826 N. Miami Avenue
Time: 10pm
Admission: $25-$30
Event Web Page
[/three_fourth_last]


[one_fourth]

[/one_fourth]
[three_fourth_last]
BIG GIGANTIC | GRIZ | HEROBUST | Grand Central
Artist: BIG GIGANTIC, GRIZ, HEROBUST,
Special Features: Exclusive Miami Music Week Performance
Venue: Grand Central | 697 N Miami Ave, Miami, Florida 33136
Time: 10pm
Admission: $20 (tickets)
Event Web Page
[/three_fourth_last]


[one_fourth]

[/one_fourth]
[three_fourth_last]
Ultra Weekend 1, Day 1
Artist: Swedish House Mafia, Afrojack, FAtboy Slim, Carl Cox, John Digweed, Paul Van Dyk, ATB, Dubfire, Josh Wink, Spaceman Live and more TBA (full line up)
Special Features: Almost Overwhelmingly Large, UMF returns this year with two full weekends of headliners
Venue: Bayfront Park | 301 North Biscayne Boulevard
Time: 4pm-11pm
Admission: $300- $1,200 Tickets
Event Web Page
[/three_fourth_last]
[/tab]
[tab title="Saturday, March 16″]
[one_fourth]

[/one_fourth]
[three_fourth_last]
United D&B and Noxiuz.com Presents: WMC KICKOFF PARTY
Artist: Blokhe4d, resident DJs (Full line up TBA)
Special Features: Miami's only DNB monthly hosts a WMC Kickoff party for junglists
Venue: Eve | 1306 N Miami Ave
Time: 10pm-5am
Admission: TBA
Event Web Page
[/three_fourth_last]


[one_fourth]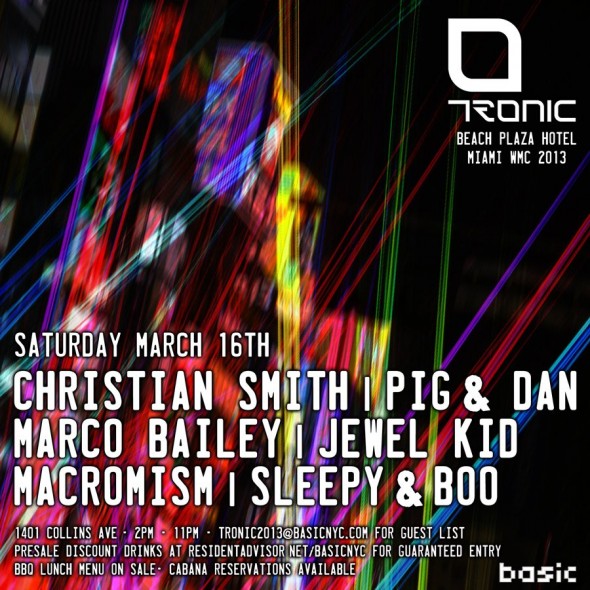 [/one_fourth]
[three_fourth_last]
Basic NYC – Tronic 2013
Artist: Christian Smith, Pig & Dan, Marco Bailey, Jewel Kid, Macromism, Sleepy & Boo
Special Features: killer lineup of tech-house and techno DJs in the Beach Plaza's outdoor gardens
Venue: Beach Plaza Hotel|1401 Collins Ave; Miami Beach, FL 33139
Time: 2pm – 11pm
Admission: email tronic2013@basicnyc.com for guest list
Event Web Page
[/three_fourth_last]


[one_fourth]

[/one_fourth]
[three_fourth_last]
WMC Free Bass V.2
Artist: FreQ Nasty, Monk, $uper Geniu$, Juan Basshead + Jumanji, Merlyn, Exzakt & Shade, Bebe, Miami Beat Wave
Special Features: Free Event brings biggest bass music names to Chalk. Drinks Specials, 21+ only
Venue: Chalk Miami Beach |1234 Washington Ave, Miami Beach, Florida 33139
Time: 8pm-5am
Admission: Free
Event Web Page
[/three_fourth_last]
[one_fourth]

[/one_fourth]
[three_fourth_last]
Diplo and Friends
Artist: DJ Essential 6 – Carlos Atomic- SIN – Kaos- Draculas Daughter and DJ16bit, Danny Bled
Special Features: Global tastemaker Diplo brings his buddies to Grand Central for a WMC installment of his acclaimed radio show
Venue: Grand Central | 697 N Miami Ave, Miami, Florida 33136
Time: 10pm-5am
Admission: $30 (tickets)
Event Web Page
[/three_fourth_last]
[one_fourth]

[/one_fourth]
[three_fourth_last]
Day N' Night
Artist: FLUX PAVILION, DATSIK, DOCTOR P, CARAGE, DIGITAL LAB, DIMITRI VANGELIS & WYMAN, THE DISCO FRIES, FEENIXPAWL, GEORGE ACOSTA, HEROES X VILLAINS, LUCKY DATE, MIGHTYFOOLS, PLASTIK FUNK, SOUND OF STEREO, TAIKI & NULIGHT, THOSE USUAL SUSPECTS, TORRO TORRO, TWINZ BEAT
Special Features: The Circle Talen Agency brings its powerhouse roster to Miami
Venue: The Shelborne Beach Resort | 1801 Collins Avenue, Miami Beach, Florida 33139
Time: 10am-10pm
Admission: $30-40 (tickets)
Event Web Page
[/three_fourth_last]
[one_fourth]

[/one_fourth]
[three_fourth_last]
The Kitchen Club WMC Edition
Artist: DJ Essential 6 – Carlos Atomic- SIN – Kaos- Draculas Daughter and DJ16bit, Danny Bled
Special Features: Miami's monthly Goth event hosts its own WMC Edition
Venue: Upstairs @ Villa 221 | 221 NE 17th Street, Miami, Florida 33132
Time: 10pm-5am
Admission: unspecified
Event Web Page
[/three_fourth_last]
[one_fourth]

[/one_fourth]
[three_fourth_last]
DEF MIX featuring FRANKIE KNUCKLES. DAVID MORALES. HECTOR ROMERO
Artist: FRANKIE KNUCKLES, DAVID MORALES, QUENTIN HARRIS, HECTOR ROMERO, DJ MEME, BRANDON MORALES, DAVE PACHANGA, MICKY TOMASINO
Special Features: A night of house music at the Vagaond
Venue: The Vagabond | 30 NE 14th St., Miami, Florida 33132
Time: 10pm-5am
Admission: $35 (tickets)
Event Web Page
[/three_fourth_last]
[one_fourth]

[/one_fourth]
[three_fourth_last]
Massive Ideas Festival After Party
Artist: Beatmachines, Skinny Hendrix, Tusk & Dez
Special Features: Across the street from Ultra, Will Call serves food till 5 am and has an excellent beer selection
Venue: Will Call Miami | 700 NE 2nd Avenue, Miami, Florida 33132
Time: 10pm-5am
Admission: $10 at the door
Event Web Page
[/three_fourth_last]
[one_fourth]

[/one_fourth]
[three_fourth_last]
DiskoLab Presents: PLM Miami 2013 Showcase
Artist: Michael Menert, SuperVision, Paul Basi
Special Features: DiskoLab introduces an intimate Miami Music Week experience with PLM, the Colorado-based record label founded by Derek Vincent Smith, aka PRETTY LIGHTS
Venue: FDR at Delano | 1685 Collins Avenue, Miami Beach, Florida 33139
Time: 11pm-5am
Admission: $40-$50 (tickets)
Event Web Page
[/three_fourth_last]
[one_fourth]

[/one_fourth]
[three_fourth_last]
Ultra Weekend 1, Day 2
Artist: Deadmau5, Kaskade, Knife Party, Richie Hawtin, Infected Mushroom, Pretty Lights, Yeasayer, Thievery Corporation, Disclosure, Benni Benassi, Alvin Risk, Birdy Nam Nam and more TBA (full line up)
Special Features: Almost Overwhelmingly Large, UMF returns this year with two full weekends of headliners
Venue: Bayfront Park | 301 North Biscayne Boulevard
Time: 4pm-11pm
Admission: $300- $1,200 Tickets
Event Web Page
[/three_fourth_last]
[/tab]
[tab title="Sunday, March 17″]
[one_fourth]

[/one_fourth]
[three_fourth_last]
Nurvous Records Miami Showcase at Bardot
Artist: Totally Extinct Enormous Dinosaurs, XXYYXX, Lazaro Casanova
Pirate Stereo, Will Buck,
Special Features:A St. Patrick/WMC kick event
Venue: Bardot| 34th Miami Ave, North Miami, FL
Time: 10 pm – 4 am
Admission: $22-$27
Event Web Page
[/three_fourth_last]
[one_fourth]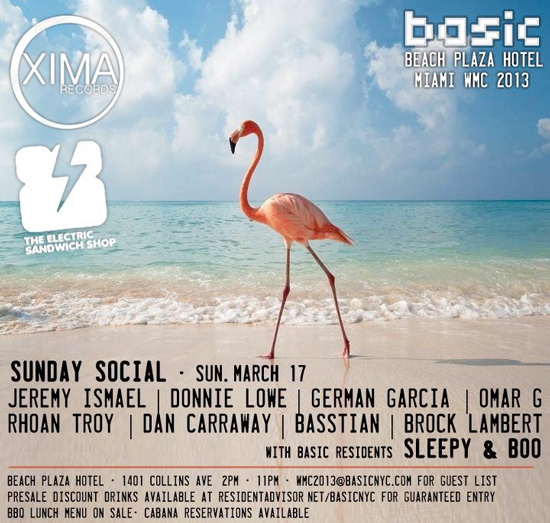 [/one_fourth]
[three_fourth_last]
Basic NYC – Sunday Social
Artist: Jeremy Ismael, Donnie Lowe, German Garcia, OMAR G, RHOAN TROY, Dan Carraway, BASSTIAN, BROCK LAMBERT, with Basic residents Sleepy & Boo
Special Features: a day-time, outdoor showcase of deep and disco grooves
Venue: Beach Plaza Hotel | 1401 Collins Ave; Miami Beach, FL 33139
Time: 2pm – 11pm
Admission: wmc2013@basicnyc.com for guest list
Event Web Page
[/three_fourth_last]
[one_fourth]

[/one_fourth]
[three_fourth_last]
Lucked Up
Artist: Fratello, Big Makk, Victor Niglio, Frost, Christopher Roberts, Amenzo, and many more TBA
Special Features:A St. Patrick/WMC kick event
Venue: Mekka | 950 Northeast 2nd Avenue, Miami, FL 33132
Time: 10pm-8am next day
Admission: TBA
Event Web Page
[/three_fourth_last]
[one_fourth]

[/one_fourth]
[three_fourth_last]
MI CASA HOLIDAY KICK-OFF
Artist: DJ J-ME, peacE, Fruto, Helen Ting, Oscar P, RiskSoundSystem and more
Special Features:A St. Patrick/WMC kick event
Venue: The Vagabond | 30 NE 14th St., Miami, Florida 33132
Time: 10pm-5am next day
Admission: $12 (tickets)
Event Web Page
[/three_fourth_last]
[one_fourth]

[/one_fourth]
[three_fourth_last]
1 NIGHT IN MIAMI WMC SHOWCASE
Artist: DAVID SOLANO, HENRIX, LUCCIO, ANDRES FRESKO, CROWD CONTROLOL, CHRIS E
Special Features: 18+
Venue: The Vagabond | 30 NE 14th St., Miami, Florida 33132
Time: 10pm-5am next day
Admission: $25 USE PROMOTIONAL CODE: chrise FOR $5 DISCOUNT (tickets)
Event Web Page
[/three_fourth_last]
[one_fourth]

[/one_fourth]
[three_fourth_last]
UNITED BASS SESSIONS WMC 2013
Artist: JOSH MORELLI, RAZ & JALI, MAX WATTS, BOOGIE HOUSER, ROSS ESPI, ROBOTI
Special Features: 3 Day event, See facebook for full event listings
Venue: Austen's | 1555 Washington Avenue, Miami Beach, Fl
Time: 8pm-5am
Admission: FREE
Event Web Page
[/three_fourth_last]
[one_fourth]

[/one_fourth]
[three_fourth_last]
Rehab Pool Party
Artist: R3hab, Adventure Club, TJR, Bassjackers, GTA, Carnage, David Solano, Gregor Salto
Special Features: Pool Party
Venue: The National Hotel |1677 Collins Avenue, Miami Beach, Florida 33139
Time: 12:00pm until 10:00pm
Admission: $35 (tickets)
Event Web Page
[/three_fourth_last]
[one_fourth]

[/one_fourth]
[three_fourth_last]
Ultra Weekend 1, Day 3
Artist: Armin Van Buuren, Bassnectar, Zedd, Steve Aoki, David Guetta, Tiesto, Avicii, Booka Shade, The Weeknd, Zeds Dead, Rusko, Dillon Francis and more TBA (full line up)
Special Features: Almost Overwhelmingly Large, UMF returns this year with two full weekends of headliners
Venue: Bayfront Park | 301 North Biscayne Boulevard
Time: 4pm-11pm
Admission: $300- $1,200 Tickets
Event Web Page
[/three_fourth_last]
[/tab]
[tab title="Monday, March 18″]
[one_fourth]


[/one_fourth]
[three_fourth_last]
Southern Housepitality
Artist: DJ Marcuis, Gary Wallace, Re'Caro Antont'e, Marshall Jones, DJ Nugz (dancegruv/durham), Miss Luna, Alvin Shavers, Lloyd Wharton, Tony TrinityBlade, James Leake, DJ CityKid
Special Features: Southern Housepitality Party features the cream of the crop of Southern DJs spinning house
Venue: The Lounge Barbershop & Bar| 665 Washington Avenue
Time: 12pm-4am
Admission: $10/Free with WMC Badge
[/three_fourth_last]


[one_fourth]


[/one_fourth]
[three_fourth_last]
Sound Off! -w/ Gibson Pro Audio @ WMC
Artist: n/a
Special Features: workshop with Cerwin-Vega, KRK & Stanton DJ
Venue: Miami Beach Convention Center | 1901 Convention Center Drive, Miami Beach
Time: 12:00pm until 1:30pm
Admission: Badge Access only
Event Web Page
[/three_fourth_last]


[one_fourth]

[/one_fourth]
[three_fourth_last]
'Reset' Techno Pool Party
Artist: Billy Johnston, Repressor, Lance Blaise, Andre Ramos, Schubert, HILARY WARNER, David Gtronic, Chad Andrew, Seraphim & Numinous, Michael Rosa, MARC MERCHANT
Special Features: Daytime pool party,
Venue: Carlton Hotel | 1433 Collins Ave; Miami Beach, FL 33139
Time: 11:00am – 9:00pm
Admission: $10
[/three_fourth_last]
[one_fourth]

[/one_fourth]
[three_fourth_last]
Maya Jane Cole Exclusive
Artist: Maya Jane Cole, Dusky, Lauren Flax, Lazaro Casanova
Special Features: Daytime pool party,
Venue: The Electric Pickle| 2826 N. Miami Avenue
Time: 10pm
Admission: $30 (tickets)
Event Web Page
[/three_fourth_last]
[one_fourth]

[/one_fourth]
[three_fourth_last]
Schulz Music Group presents ColdHarbour Night
Artist: KhoMha, ArneJ, Mr. PIT, Grube & Hovsepian, Kaeno and Denzo
Special Features: Schulz Music Group in association with Dream Nightclub present the 2nd Annual Miami Music Week Edition of ColdHarbour Night, Rumored Markus Schulz appearance
Venue: Dream Nightclub | 1532 Washington Avenue, Miami Beach, Florida
Time: 10pm
Admission: $35-$40 (tickets)
Event Web Page
[/three_fourth_last]
[one_fourth]

[/one_fourth]
[three_fourth_last]
MAMUSHKA'S WMC SHOWCASE
Artist: RIZZI E (Miami Live Cast), The Digital Breed (Miami Live Cast / Giga Beat), Anthony Pisano, Renegades Of Funk, Culiner, Empire, Felix House & Max Kartel, Disaray
Special Features: Local Artists performing House/Electro/Dubstep/Trap/Moombah/Tech/Progressive
Venue: Mamushka Gallery | 31 NW 36th Street, Miami, Florida 33127
Time: 11pm
Admission: unspecified
Event Web Page
[/three_fourth_last]
[one_fourth]

[/one_fourth]
[three_fourth_last]
Fúkin Foam – Presented By Another World
Artist: Not Specified
Special Features: Foam Party
Venue: Finnegan's River | 401 Southwest 3rd Avenue, Miami, Florida
Time: 12:00 PM – 5:00 AM
Admission: $20-$500 (tickets)
Event Web Page
[/three_fourth_last]
[/tab]
[tab title="Tuesday, March 19″]
[one_fourth]

[/one_fourth]
[three_fourth_last]
Trapped In The Jungle
Artist: DJ Slink, Miami Beat Wave, XAVI3R3, A-Sides, Bailey, Statikroxi, Scratch Academy Students, Truspin, Somejerk, Danny Bled, Disidente, Alphaxero and more
Special Features: Official WMC 2013 Showcase of World Famous Talent in 2 rooms. With Genres like Jungle, Trap, DnB, Breakbeats, Dubstep and Mashup.
Venue: Jazid | 1342 Washington Ave, Miami Beach
Time: 10pm-5am
Admission: $15/ Free w WMC Badge
Event Web Page
[/three_fourth_last]

[one_fourth]

[/one_fourth]
[three_fourth_last]
RVDIOVCTIVE POOL PARTY @ WMC 2013
Artist: TBA
Special Features: Pool Party. More Details coming soon.
Venue: Carlton Hotel South Beach | 1433 Collins Avenue, Miami Beach, Florida 33139
Time: 11am-9pmm
Admission: TBA
Event Web Page
[/three_fourth_last]


[one_fourth]

[/one_fourth]
[three_fourth_last]
PROJECT: ASSEMBLY
Artist: Spinna, Todd Terry, Nickodemus, DJ Spen, Master Kev, Keith Evan, Rob Paine, Ultra Nate, Tedd Patterson, Hector Romero, MR. V, Claude Monnet, DJeff, Afrozilla, Jovonn, Seascape, Dj Romain, Vincenzo Siracusa, Sabo
Special Features: 3 legendary events, Underground Collective, Ambassadors, & Room Control team up for one massive party
Venue: The Vagabond | 30 NE 14th St., Miami, Florida 33132
Time: 10pm-5am
Admission: $20/ Free w WMC Badge
Event Web Page
[/three_fourth_last]
[one_fourth]

[/one_fourth]
[three_fourth_last]
Toca Tuesday WMC Edition
Artist: Tony Touch, Kid Capri, Just Blaze, Rich Medina
Special Features: presented by Tony Touch, Voodoo Ray, Danny Castro, Fred Coolout, Culture + Chalk Miami Beach
Venue: Chalk Miami Beach | 1234 Washington Ave, Miami Beach, Florida 33139
Time: 9pm-5am
Admission: TBC/ most likely free
Event Web Page
[/three_fourth_last]
[one_fourth]

[/one_fourth]
[three_fourth_last]
Cirque Du Beats – Presented By Another World
Artist: Not Specified
Special Features: Carnival Rides, Festival Foods, Etc
Venue: Finnegan's River | 401 Southwest 3rd Avenue, Miami, Florida
Time: 12:00 PM – 5:00 AM
Admission: $15-$500 (tickets)
Event Web Page
[/three_fourth_last]
[one_fourth]

[/one_fourth]
[three_fourth_last]
2013 DMC Miami Regional DJ Battle
Artist: Judges include Craze, Immortal, Concept, Fader, Exotic E, I-Dee +. Host: Bebe GZC. Partyrockers: DJs Bebe GZC, Lady -T & Medley and De La
Special Features: DJ's batlle to become regional DMC champs
Venue: Chalk Miami Beach | 1234 Washington Ave, Miami Beach, Florida 33139
Time: 5-9pm
Admission: $10 (tickets)
Event Web Page
[/three_fourth_last]
[one_fourth]

[/one_fourth]
[three_fourth_last]
Global Connection Miami Music Week Edition 2013
Artist: Giuseppe Ottaviani, Aly & Fila, Sied Van Riel, and Kaeno & Denzo
Special Features: House Music
Venue: Chalk Miami Beach | 1234 Washington Ave, Miami Beach, Florida 33139
Time: 5-9pm
Admission: $35-$40 (tickets)
Event Web Page
[/three_fourth_last]
[/tab]
[tab title="Wednesday, March 20″]
[one_fourth]

[/one_fourth]
[three_fourth_last]
S!NK! – WMC POOL PARTY
Artist: Badklaat, Hizzleguy, Shiverz, MuK, Benzmixxer, Bryzergold, Hoova & more
Special Features: An official WMC day time pool party, which is after all what coming to Miami is really all about
Venue: Carlton Hotel South Beach | 1433 Collins Avenue, Miami Beach, Florida 33139
Time: 12pm-?
Admission: $10
Event Web Page
[/three_fourth_last]
[one_fourth]

[/one_fourth]
[three_fourth_last]
RAM Miami
Artist: Andy C, Delta Heavy, Loadstar, Ed Rush & Optical, Culture Shock, Rene LaVice, Goldie and MCs Armanni Reign and Dino
Special Features: Ram Records teams up with Circle Management to bring some of the most respected names in the industry to Miami again
Venue: Therapy Miami (old Studio A) | 60 NE 11th St, Florida 33132
Time: 9pm-5pm
Admission: $23 (presales)
Event Web Page
[/three_fourth_last]
[one_fourth]

[/one_fourth]
[three_fourth_last]
HARD MIAMI Day 1
Artist: A-Trak, Borgore, RL Grime, Nadastrom, UZ, Birdy Nam Nam, Flume, Green Lantern, French Fries
Special Features: The 'HARD' name always packs a powerhouse of talent, 2 day festival
Venue: Grand Central | 697 N Miami Ave, Miami, Florida 33136
Time: 10pm-5am
Admission: $25 Early Bird- $45 at the door; $40 two day passes available. (Tickets)
Event Web Page
[/three_fourth_last]
[one_fourth]

[/one_fourth]
[three_fourth_last]
Reefer Madness – Presented By Another World
Artist: Not Specified
Special Features: Not Specified
Venue: Finnegan's River | 401 Southwest 3rd Avenue, Miami, Florida
Time: 12:00 PM – 5:00 AM
Admission: $15-$500 (tickets)
Event Web Page
[/three_fourth_last]
[one_fourth]

[/one_fourth]
[three_fourth_last]
FLYING CIRCUS : MIAMI
Artist: Audiofly, Avatism live, Azari & III live, Benoit & Sergio live, Bill Patrick vs. Maayan Nidam, Blond:ish, Clockwork, Den Ishu, Inxec, Just Be, Lee Curtiss, M.A.N.F.L.Y. (M.A.N.D.Y. vs. AUDIOFLY Miami exclusive), Magda, Martin Buttrich live, My Favorite Robot, Shaun Reeves, Special Case, Tiefschwarz, tINI, Tone of Arc live, Ultrasone
Special Features: Celebrating the Label's 6th year
Venue: Villa 221 | 221 NE 17th Street, Miami, Florida 33132
Time: 12:00 PM – 5:00 AM
Admission: $35 (tickets)
Event Web Page
[/three_fourth_last]
[one_fourth]

[/one_fourth]
[three_fourth_last]
Mr. Nice Guy Pastelito Party (WMC Edition)
Artist: Jesse Perez, Sishi Rosch, Leroy "Big L" Brown (WMC Exclusive), Hectik Rivero (WMC Exclusive), Sex Sells (WMC Exclusive), Thunderpony, Mika Materazzi (WMC Exclusive)
Special Features: free pastelitos (free pastries), free admission (no hace falta dinero)
Venue: Catalina Hotel and Beach Club | 1720-1732-1756 Collins Avenue, Miami Beach
Time: 12:00 PM – 5:00 AM
Admission: Free
Event Web Page
[/three_fourth_last]
[one_fourth]

[/one_fourth]
[three_fourth_last]
BREAKBEAT BBQ WMC POOL PARTY
Artist: Bailey, A-Sides, 2 Live Crew and more
Special Features: the best in Breaks, Jungle/DnB, Dubstep and Underground Hip Hop
Venue: Casanova Suites | 524 Ocean Dr, Miami Beach, Florida 33139-6616
Time: 12:00 PM
Admission: Free
Event Web Page
[/three_fourth_last]
[one_fourth]

[/one_fourth]
[three_fourth_last]
Ellum & Leftroom present: Another Reckless Night
Artist: Anthony Rother – Danny Daze – DJ Tennis – Doc Martin – Ellen Allien – George FitzGerald – Green Velvet – Huxley – Josh Wink – Kate Simko – Lazaro Casanova – Lee Curtiss – Maher Daniel – Maetrik – Matt Tolfrey – Maxxi Soundsystem – Ryan Crosson – Steve Bug + More
Special Features: the best in Breaks, Jungle/DnB, Dubstep and Underground Hip Hop
Venue: The Electric Pickle | 2826 North Miami Ave, Miami, Florida 33127
Time: 12:00 PM
Admission: $60 (tickets)
Event Web Page
[/three_fourth_last]
[one_fourth]

[/one_fourth]
[three_fourth_last]
Massive Wednesdays WMC Edition
Artist: Break Science, Keys n Krates, Stylust Beats, Beatmachines, Warp9, Afromonk, Dusty, Y Diz, Milky and more
Special Features: This installment of Massive wed being held at MOKSHA FAMILY ARTS COLLECTIVE! This week will be held at 7th Circuit Studios, with TWO stages of music, both indoors and outdoors!
Venue: Moksha Family Arts Collective | 228 n.e. 59 st., Miami, Florida 33137
Time: 9pm-5am
Admission: $15 ADVANCE / $20 DOOR (+$5 surcharge for 18-21)
Event Web Page
[/three_fourth_last]
[/tab]
[tab title="Thursday, March 21″]
[one_fourth]

[/one_fourth]
[three_fourth_last]
Bright Future: MIAMI MUSIC WEEK EDITION
Artist: ROSKA (KICKS & SNARES/RINSE), WAX ROMEO (T&A/PLANT MUSIC/HOMEBREAKIN), TAIKI & NULIGHT (CHEAP THRILLS), CHALK (TROPICAL BOYZ/LOVELESS RECORDS), BONNIE BEATS (NIGHTDRIVE), SANTIAGO CABALLERO (SLAP & TICKLE), SOMEJERK (SIGNAFLO), GOODDROID (LOVELESS RECORDS), DGTL and more
Special Features: All Night Party goes way into afterhours. Will Call serves food till 5 am. Located right across the street from Ultra
Venue: VWill Call Miami| 700 NE 2nd Ave, Downtown Miami
Time: 11:00 PM – ???
Admission: Free
Event Web Page
[/three_fourth_last]
[one_fourth]

[/one_fourth]
[three_fourth_last]
Dirtybird Players – Miami Edition
Artist: Claude Von Stroke, Eats Everything, Catz 'N Dogs, Justin Martin
Special Features: Pool Party, sound by Systematic Productions
Venue: Villa 221 | 221 NE 17th Street, Miami
Time: 12:00 PM – 10:00 PM
Admission: $25 (early Bird) – $30
Event Web Page
[/three_fourth_last]
[one_fourth]

[/one_fourth]
[three_fourth_last]
Stacked: Miami
Artist: DATSIK, ANDY C, DOCTOR P, BARE NOIZE, BRILLZ, BRO SAFARI, CARNAGE, CRNKN, DAMN KIDS, DELTA HEAVY, DIRTYPHONICS, ETC!ETC!, EMALKAY, FEI-FEI, GOLDIE, HEROES x VILLAINS, KNUCKLE CHILDREN, LOADSTAR, MATRIX & FUTUREBOUND, MUST DIE!, NERD RAGE, ROKSONIX, SCHOOLBOY, SHIFTEE, TAIKI & NULIGHT, TITTSWORTH, TORRO TORRO, XKORE, ZOMBOY
Special Features: Circle Talent brings its powerhouse roster to Finnegan's for a pool party
Venue: Finnegan's River | 401 Southwest 3rd Avenue, Miami, Florida 33130
Time: 12:00 PM – 10:00 PM
Admission: $15 – $30 (tickets)
Event Web Page
[/three_fourth_last]
[one_fourth]

[/one_fourth]
[three_fourth_last]
Skys Invades Miami 6 aka DubWet 2
Artist: Donald Glaude & Metaphysical, Dj Micro, Joeski, Dank, Scotty Boy, Knowledge, IDeaL, Somejerk & Mister Gray, HiJinx, Jason Daniel, Caligula, Mike Kruz, Khaos w. Phil Ade on Drums,
Special Features: Pool Party, sound by Systematic Productions
Venue: Carlton Hotel South Beach | 1433 Collins Avenue, Miami Beach, Florida 33139
Time: 11am-12am
Admission: $10
Event Web Page
[/three_fourth_last]
[one_fourth]

[/one_fourth]
[three_fourth_last]
Dim Mak 2013 Showcase
Artist: Steve Aoki, Datsik, Dimitri Vegas & Like Mike, Dirtyphonics, Azari & III, Yolanda Be Cool, Felix Cartal, AutoErotique, Clockwork, PeaceTreaty, Keys N Krates, Sound Of Stereo, TAI, Deorro, Dzeko & Torres, Botnek, Dan Sena, Kid Ikarus, Will Brennan, Bones
Special Features: Pool Party,
Venue: The Raleigh Hotel | 1775 Collins Avenue, Miami Beach
Time: 12:00pm until 10:00pm
Admission: $66 (Tickets)
Event Web Page
[/three_fourth_last]
[one_fourth]

[/one_fourth]
[three_fourth_last]
2013 Scratch Summit
Artist: Not Specified
Special Features: open tables, lots of dope performances, surprise guests, jam sessions, product giveaways, and so much more!
Venue: Scratch DJ Academy Miami | 450 NW 28th Street, Miami, Florida 33127
Time: 1:00pm until 5:00pm
Admission: Free
Event Web Page
[/three_fourth_last]
[one_fourth]

[/one_fourth]
[three_fourth_last]
HARD MIAMI Day 2
Artist: Claude Vonstroke, Gesaffelstein, Brodinski, Justin Martin, Destructo, Oliver, Amtrac + a very special surprise guest
Special Features: The 'HARD' name always packs a powerhouse of talent, 2 day festival
Venue: Grand Central | 697 N Miami Ave, Miami, Florida 33136
Time: 10pm-5am
Admission: $25 Early Bird- $45 at the door; $40 two day passes available. (Tickets)
Event Web Page
[/three_fourth_last]
[one_fourth]

[/one_fourth]
[three_fourth_last]
World of Drum & Bass
Artist: Line up TBA
Special Features: two arenas and over 50 artists performing
Venue: Euphoria | 90 NE 11th St., Miami, FL, 33132
Time: 10pm-5am
Admission: $15 Early Bird- $25 VIP. (Tickets)
Event Web Page
[/three_fourth_last]
[one_fourth]

[/one_fourth]
[three_fourth_last]
Juicy Beach
Artist: Robbie Rivera, Bob Sinclar, Cosmic Gate, Moguai, Manfactured Superstars, Nari & Milani, Stefano Noferini, Manuel De La Mare, Federico Scavo and more TBA
Special Features: two arenas and over 50 artists performing
Venue: Nikki Beach Miami | One Ocean Drive, Miami Beach, Florida 33139
Time: 12pm-5am
Admission: $86.13 after fees (Tickets)
Event Web Page
[/three_fourth_last]
[one_fourth]

[/one_fourth]
[three_fourth_last]
Smog Vs. Basshead
Artist: ADVENTURE CLUB, DOCTOR P, DIRTYPHONICS, ZOMBOY, KOAN SOUND, 12TH PLANET, CASPA, FLINCH, TRUTH, GOLDIE, S.P.Y., MATRIX, BAILEY (Full line up on FB)
Special Features: One of the biggest shows of the conference season, Smog Basshead is always packed and always features the biggest names in the heavy bass game
Venue: Mekka | 950 Northeast 2nd Avenue, Miami, FL 33132
Time: 9pm-5am
Admission: $26 (tickets)
Event Web Page
[/three_fourth_last]
[/tab]
[tab title="Friday, March 22″]
[one_fourth]

[/one_fourth]
[three_fourth_last]
Sick Day in the Sun
Artist: Subsonik, Kryteria, Flaco, Impression & MC Direct and More Artist to be announced!
Special Features: "Sick Day in the Sun" Celebrating our 7th annual event! Right in the middle of everything, hear your favorite drum & bass and dubstep/bass artists. Hosted by Patrick Felony & MC Disidente.
Venue: Liquor Lounge |1560 Collins Ave Ste 1 Miami Beach
Time: 12pm (noon) – 9pm
Admission: TBA
[/three_fourth_last]
[one_fourth]

[/one_fourth]
[three_fourth_last]
Hospitality Miami
Artist: TBA
Special Features: one of UK's most legendary drum and bass labels
Venue: Club Therapy (Old Studio A) | 60 NE 11th Street, Miami
Time: 8pm-
Admission: $19 (tickets)
Event Teaser Page
[/three_fourth_last]
[one_fourth]

[/one_fourth]
[three_fourth_last]
Life and Death manifests WMC by PL0T & Pickle
Artist: Thugfucker, Dj Tennis and more TBA
Special Features: "not just another club night but rather the full multisensory and multidimensional experience"
Venue: Electric Pickle Pop Up Factory (Soho Studios Pavilion)| 2151 NW 1st CT, Wynwood Arts District, Miami FL 33127
Time: 9pm
Admission: $25 (early BIrd) – $55
Event Teaser Page
[/three_fourth_last]
[one_fourth]

[/one_fourth]
[three_fourth_last]
Future Sound of Breaks
Artist: Line up TBA
Special Features: One of the longest running events during WMC celebrates its 11th anniversary
Venue: Mekka | 950 Northeast 2nd Avenue, Miami, FL 33132
Time: 10pm-5am
Admission: $40 Early Bird- $60 Early Bird VIP. (Tickets)
Event Web Page
[/three_fourth_last]
[one_fourth]

[/one_fourth]
[three_fourth_last]
Ultra Weekend 2, Day 2
Artist: Tiesto, Avicii, Luciano, Carl Cox, Yousef, Bloody Beetroots, Afrojack, Kaskade, Boyz Noize, Trip Theory, Baby Anne and more TBA (full line up)
Special Features: Almost Overwhelmingly Large, UMF returns this year with two full weekends of headliners
Venue: Bayfront Park | 301 North Biscayne Boulevard
Time: 4pm-11pm
Admission: $300- $1,200 Tickets
Event Web Page
[/three_fourth_last]
[one_fourth]

[/one_fourth]
[three_fourth_last]
Another World's "Excessive Pre-Gaming" Pool Party & Snow Glow 3D Tour
Artist: Not Specified
Special Features: Largest Festival Pre gaming Party in downtown
Venue: Finnegan's River | 401 Southwest 3rd Avenue, Miami, Florida
Time: 10:00 am – 5:00 AM
Admission: $15-$500 (tickets)
Event Web Page
[/three_fourth_last]
[/tab]
[tab title="Saturday, March 23″]
[one_fourth]

[/one_fourth]
[three_fourth_last]
SIN CITY MIAMI: BASSHEAD MUSIC TAKEOVER

Artist: Hatcha, N-Type, True Tiger, Lost, Chefal, Megalodon, Juan Basshead, A-Sides, North Base, Hoova, Amkz, Rackup & Pinion, Alex M, Bats! and More
Special Features: Boasting a lot of exclusive performances including one from the godfather of dubstep himself, Hatcha.
Venue: TBC (But sources say Eve)
Time: 9pm
Admission: TBA
Event Web Page
[/three_fourth_last]
[one_fourth]

[/one_fourth]
[three_fourth_last]
Stank Love+United D&B Present WMC 2013
Artist: Sopheye, Disidente, Mc Nome, Stereotype, Will Miles, Alphaxero, DJ Dale'
Special Features: Miami's two Drum & Bass parties have collaborated to bring you a night celebrating all facets of the genre
Venue: Jazid | 1342 Washington Avenue
Time: 10pm
Admission: $10/ Free with WMC Badge
Facebook Event Page
[/three_fourth_last]
[one_fourth]

[/one_fourth]
[three_fourth_last]
WMC Free Bass V.2
Artist: Icey, Krafty Kuts, Freestylers, Deekline, BabyAnne, Kuad Soundsystem, Keith Mackenzie, Rob E + Security, Shade, Bebe
Special Features: Free Event brings biggest bass music names to Chalk. Drinks Specials, 21+ only
Venue: Chalk Miami Beach |1234 Washington Ave, Miami Beach, Florida 33139
Time: 8pm-5am
Admission: Free
Event Web Page
[/three_fourth_last]
[one_fourth]

[/one_fourth]
[three_fourth_last]
Another World's "Excessive Pre-Gaming" Pool Party & Electric Lazer Circu5 Tour
Artist: Not Specified
Special Features: Largest Festival Pre gaming Party in downtown
Venue: Finnegan's River | 401 Southwest 3rd Avenue, Miami, Florida
Time: 10:00 am – 5:00 AM
Admission: $15-$500 (tickets)
Event Web Page
[/three_fourth_last]
[one_fourth]

[/one_fourth]
[three_fourth_last]
Ultra Weekend 2, Day 2
Artist: Deadmau5, David Guetta, Calvin Harris, Fatboy Slim, Carl Cox, Hot Chip, Disclosure, Borgore, Flux Pavillion vs. Doctor P, Datsik, 12th Planet, Tiga, Scuba and more TBA (full line up)
Special Features: Almost Overwhelmingly Large, UMF returns this year with two full weekends of headliners
Venue: Bayfront Park | 301 North Biscayne Boulevard
Time: 4pm-11pm
Admission: $300- $1,200 Tickets
Event Web Page
[/three_fourth_last]
[/tab]
[/tab]
[tab title="Sunday, March 24″]
[one_fourth]

[/one_fourth]
[three_fourth_last]
Ultra Weekend 2, Day 3
Artist: Swedish House Mafia, Dirty South, Bingo Players, Paul Van Dyk, Ferry Corstein, Marcus Schultz, Crystal Castles, Azalea Banks, Modestep, Afrobeta,Wolfgang Gartner, Tommy Trash,Damian Lazarus, Metaphysical, Nate Campbell and more TBA (full line up)
Special Features: Almost Overwhelmingly Large, UMF returns this year with two full weekends of headliners
Venue: Bayfront Park | 301 North Biscayne Boulevard
Time: 4pm-11pm
Admission: $300- $1,200 Tickets
Event Web Page
[/three_fourth_last]
[one_fourth]

[/one_fourth]
[three_fourth_last]
No Anthems Allowed – Another World & Hypnotic Productions
Artist: Not Specified
Special Features: WMc Closing Event
Venue: Finnegan's River | 401 Southwest 3rd Avenue, Miami, Florida
Time: 10:00 am – 5:00 AM
Admission: $15-$500 (tickets)
Event Web Page
[/three_fourth_last]
[/tab]
[/tab]
[/tabs]