Growing up in Miami makes you privy to a lot of strange uniqueness you would never otherwise be exposed to. There is something irrefutably special about sunbathing in mid December, about knowing what a frita, a colada and that an empanada is basically a turnover is without actually knowing the Spanish language. It's a standard fact of our day to day that we are a mix of cultures, a mix of sights and most definitely a mix of influence.
It comes as no surprise then, that local Film collective Borscht, who recently a received a large grant from the Knight Foundation, commissioned some of the best local and regional filmmakers to make short films about the city. As a major player in Miami's creative scene, The Borscht Corporation "commissions, produces, and showcases film/video works by emerging artists". The company's singular focus is telling Miami's stories in Miami's voice, transcending "the city's insipid exterior and stereotypical misrepresentations in mainstream entertainment". During their festival, these Miami-centric films will screen alongside other shorts from the community, in a night "celebrating stories only a city as strange and beautiful as Miami could inspire".
The "festival" lasts almost a week, with films by various Miami creators showing at various venues and Borscht 8, the festivals' flagship event taking place at the Adrienne Arscht Center for the performing arts. Ticket prices vary per event and range from free, including the "Bosh Film Festival" during which attendees will have a chance to see the controversial short by Bleeding Palm "Adventures of Christopher Bosh in the Multiverse", to $25 for entrance to Borscht 8.
Check out the teaser. Schedule is available below (via the Miami Herald). Tickets and more information can be found on the festival website.
Dec 13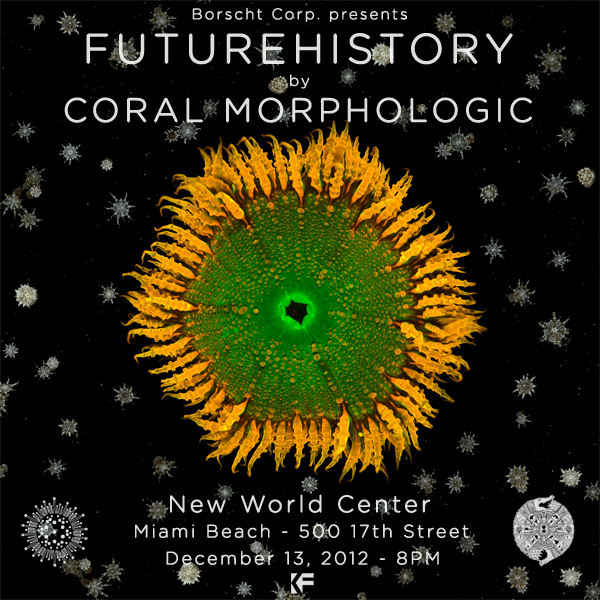 What: FutureHistory – Coral Morphologic and artist Jean Painleve screen collaborative films scored by Animal Collective members Geologist and Deakin.
When: 8PM-9PM
Where: New World Symphony Soundscape Park, 500 17th St., Miami Beach
Pro Tip: The event is outdoors to check for weather limitations. Bring a blanket or lawn chairs and your favorite wine as well and get there early for a good seat because space gets limited quickly.
What: Secret Cinema Screening of "Super Fuzz," – Suposedly "the worst film ever made about Miami". Super Fuzz or Poliziotto superpiù is an Italian comedy film about Dave Speed, a bumbling Miami police officer who gains super powers through accidental nuclear exposure.
When: Starts at 11pm.
Where: Broken Shaker at The Freehand 2727 Indian Creek Drive, Miami Beach
Pro Tip: Get there early, the afterparty for FutureHistory starts at 10.
Dec 14

What: Regional Film Summit: New Orleans Josh Penn and Bob Weiss of Louisiana film collective Court 13 present 90 minutes of work indicative of the ethos, interests, and methods of production of New Orleans.
When: 3-4:30PM
Where: O Cinema, 90 NW 29th St., Miami
Pro Tip: Local? while you're there, inquire about an O Cinema Membership, there is always something awesome going on
[/three_fourth_last]
[one_fourth]

[/one_fourth]
[three_fourth_last]
What: "Sun Don't Shine": Under Hypnosis w/ Amy Seimetz So Fla actress/producer Amy Seimetz makes her feature directorial debut with the histrionically inclined Sun Don't Shine, a sweaty slow-burn thriller. The screening will feature a hypnotist to convince the audience that they made the film, and convince the director that she's watching it for the first time. A Q&A will follow the screening.
When: 5-7PM
Where: O Cinema, 90 NW 29th St., Miami
Pro Tip: Local? while you're there, inquire about an O Cinema Membership, there is always something awesome going on
[/three_fourth_last]
[one_fourth]

[/one_fourth]
[three_fourth_last]
What: Regional Bike Slither in Wynwood a guided tour around the neighborhood with stops at bars and restaurants and screenings of regional programs from South Africa and a special screening by McSweeney's Wholphin, but at a slither, because Miami is far too hot to move fast in.
When: 7-10 PM
Where: Take off at O Cinema, 90 NW 29th St., Miami
Pro Tip: Considering that Basel just wrapped up, this tour promises to be full of new art work to look at.
[/three_fourth_last]
[one_fourth]

[/one_fourth]
[three_fourth_last]
What: Bosh Film Festival Inspired by an April Fool's gag when Borscht members joked that Miami Heat star Chris Bosh would donate 1 percent of his annual salary to Borscht, this free event allows anyone to bring a project and show their film. Contact iloveyoubosh@borschtcorp.com to reserve a slot
When: 10PM-12AM
Where: Miami Art Museum, 101 W. Flagler St., Miami
Pro Tip: pop in for a chance to see Bleeding Palm "Adventures of Christopher Bosh in the Multiverse"
[/three_fourth_last]
[/tab]
[tab title="Dec 15″]
[one_fourth]

[/one_fourth]
[three_fourth_last]
What: Regional Film Summit: Dallas Adam Donaghey will discuss the work and methods of indie film production in Dallas.
When: 12PN-1:30PM
Where: Miami Beach Cinematheque, 1130 Washington Ave., Miami Beach
[/three_fourth_last]
[one_fourth]

[/one_fourth]
[three_fourth_last]
What: "Rising Tide" Screening Documentary filmed during the days before the 2011 edition of Art Basel explores the work of artists who live and work in Miami.
When: 1:30-3PM
Where: Miami Beach Cinematheque, 1130 Washington Ave., Miami Beach
[/three_fourth_last]
[one_fourth]

[/one_fourth]
[three_fourth_last]
What: Borscht 8 Short films by locals and in collaboration with visiting filmmakers, all made in Miami in the spirit of micro-budget independent filmmaking. Featuring new works by Amy Seimetz, Adan Jodorowsky, Jillian Mayer, Sean Metelerkamp, Celia Rowlson-Hall and more.
When: 8PM-12AM
Where: Arsht Center Ziff Opera House, 1300 Biscayne Blvd., Miami
Advance Tickets
[/three_fourth_last]
[one_fourth]

[/one_fourth]
[three_fourth_last]
What: Borscht's Auris after party It's an afterparty, there isn't more information needed than that.
When: 12AM
Where: Grand Central, 697 N. Miami Ave., Miami
Advance Tickets
[/three_fourth_last]
[/tab]
[tab title="Dec 16″]
[one_fourth]

[/one_fourth]
[three_fourth_last]
What: Regional Film Summit: Missouri Producer Kim Sherman presents work indicative of production in Missouri.
When: 1:30-3PM
Where: O Cinema, 90 NW 29th St., Miami
Pro Tip: Local? while you're there, inquire about an O Cinema Membership, there is always something awesome going on
[/three_fourth_last]
[one_fourth]

[/one_fourth]
[three_fourth_last]
What: Lunch + Petting Zoo Lunch in a petting zoo outside the cinema, featuring the biggest stars of regional filmmaking, such as pigs from "Beasts of the Southern Wild" and international superstar Shivers the Dog.
When: 3-4PM
Where: O Cinema, 90 NW 29th St., Miami
Pro Tip: Local? while you're there, inquire about an O Cinema Membership, there is always something awesome going on
[/three_fourth_last]
[one_fourth]

[/one_fourth]
[three_fourth_last]
What: Regional Film Summit: Havana Recently defected filmmaker Laimir Fano presents work never seen outside Cuba.
When: 4-5:30PM
Where: O Cinema, 90 NW 29th St., Miami
Pro Tip: Local? while you're there, inquire about an O Cinema Membership, there is always something awesome going on
[/three_fourth_last]
[one_fourth]

[/one_fourth]
[three_fourth_last]
What: Regional Film Summit: East Oregon Ian Clark (East Oregon Film Festival) presents work about production of Eastern Oregon.
When: 9:30-11PM
Where: Miami Beach Cinematheque, 1130 Washington Ave.i
[/three_fourth_last]
[one_fourth]

[/one_fourth]
[three_fourth_last]
What: Regional Film Summit: Philadelphia Vic Reznik presents work about production in Philadelphia, as well as the unveiling of his plans to create Borscht Philly.
When: 11PM-12AM
Where: Miami Beach Cinematheque, 1130 Washington Ave.i
[/three_fourth_last]
[/tab]